We kicked off this year with our Valentine's Special, which took place on Monday at Bedroom Bar in Shoreditch. The compact, candlelit upstairs area of the venue provided the perfect location for what was a beautifully intimate evening of poetry and live music.
First act on stage was last year's Christmas Special open mic winner, Michael Kilbey. Hailing from Hertfordshire, the singer performed some of his original material, accompanied by the acoustic sounds of his guitar.
Next up was spoken word artist, Jolade, gracing our stage for the second time in just under a year with fantastic pieces, which provoked rapturous finger-snaps amongst our audience. He was also joined by fellow poet, Sia, and the duo performed a hard-hitting poem called "Find Yourself".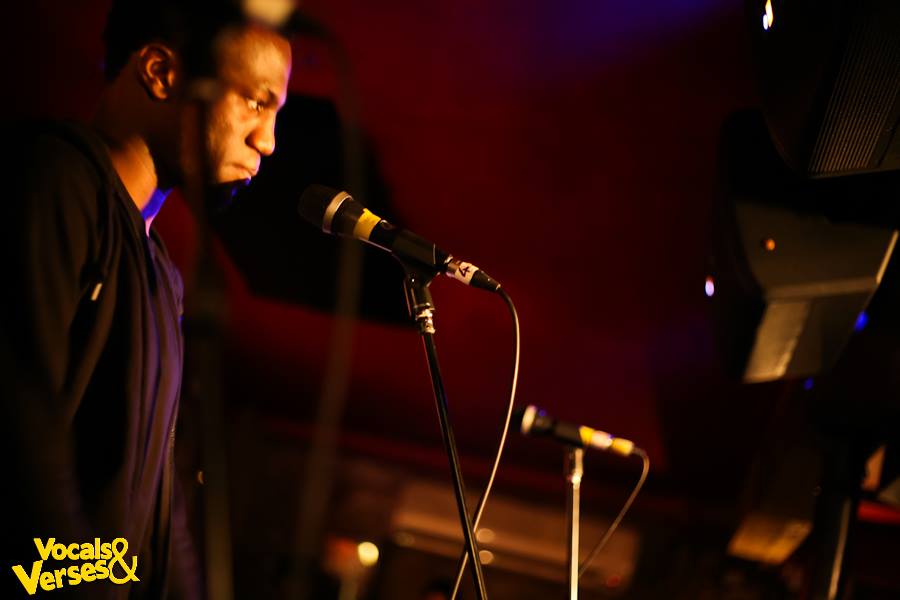 Our very own founder and host, Benjamin Bennett, provided us with a rare performance of a romantically-charged poem called 'Tell Me'. He was joined by the amazing voice of singer Elizabeth, as she and the band laced his piece with a soulful rendition of the legendary 'Prototype' by Outkast.
After an entertaining round of our signature competition, 'Verse-Off', and our usual open mic section, our next billed artist for the night was singer EJR, who gave us a lively mix of originals and well-known R&B hits such as 'Love' by Musiq Soulchild, and Michael Jackson's 'Rock With You'. He was accompanied by the band and his three fantastically harmonious backing vocalists, (one of which was V&V favourite, Shanteh Fuller) who had the whole venue buzzing from beginning to end.
Our penultimate act was New York-native Amy Leon, who lit up the stage with that scintillating style of US spoken word we Brits are mesmerised by. In addition to a powerful lyrical performance, her use of a loop-pedal on stage gave her set that creative edge, which the audience warmly embraced.
Our last act, was none other than Sincerely Wilson, who hadn't performed at V&V since April 2012. The soulful crooner gave us the most heartfelt singing performance of the night, with stripped down versions of original tracks from his 'Painted In Silence' and 'Tone Of Art' EPs, as well as an awesome cover of India Arie's 'Beautiful Surprise'.
Follow all Monday night's acts on Twitter to keep updated on their upcoming gigs:
@MichaelKilbey
@TheJolade
@MrBenjaminB
@EJRMusic
@AmyDelilahLeon
@WilsonSings
Follow us on Twitter also to stay in the loop regarding our 4th Anniversary show in April, and our new acoustic/open mic night entitled 'The Prelude' - @VocalsAndVerses